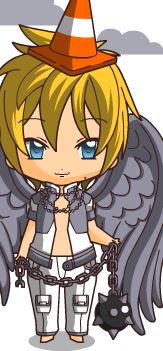 See also:
Main
Gallery
Quotes
Skills
Wilieen Izzan or Will is the Protector of Mechanicals.He tricky and clumsy.He  is kinda a little bit violent .
Apparence
Edit
He wearing a cone has a hat and have blonde hair.He also have a grey and with jacket and white pants with a silver necklace.He also have wings.
Relationships
Edit
His only common friends are  Zendalaz
He is allergic to pet magic.
He is not in romance with anyone
Name:Wilieen Izzan
Age: 13
Birthday: February,8
Likes:(recycled)Steel,Construction Materials, Precious stones, Hamburgers
Dislikes:Brocked things,Worn Machines,Fries
Catchphrase: If you don't know how to make something mechanical, i am always here!
Race: Steel Wing
Unlockable:Yes
Unlocking
Edit
By getting at least 18/20 on the Gomma Larya test on Hard or harder.
or buying the item  Steel helm of Wisdom at the Premium Mall
Ad blocker interference detected!
Wikia is a free-to-use site that makes money from advertising. We have a modified experience for viewers using ad blockers

Wikia is not accessible if you've made further modifications. Remove the custom ad blocker rule(s) and the page will load as expected.