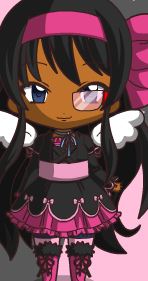 See also:
Main
Gallery
Quotes
Skills
Spektray Garombe (or Hailey) is the Protector of Modern Lights, she is kind, cute but sassy. She is a DJ.
Apparence
She have dark skin,Black hair and pink headphones.She has a ribbon pink and black dress with black boots.
Relationships
Friends
Her best friends is Dania and Zendalaz .
Pet
Her pet is a falcon named DJ Feather
Relationships
She is not interessed for a guy right now
Profile
Name: Spektray Garombe
race: Steel Wing
Age: 16
Height: 1,59
Likes: Candy,Meat,Noise,Lights,Sunny Days,Parties
Dislikes:Vegetables (especially Broccoli),Silencious Moments,Rocks
Birthday: February,29
Stone:
Trasformation: Lunatic Mystic►Mystical Plasmatics
See: Lunatic Mystic
Trivia
Ad blocker interference detected!
Wikia is a free-to-use site that makes money from advertising. We have a modified experience for viewers using ad blockers

Wikia is not accessible if you've made further modifications. Remove the custom ad blocker rule(s) and the page will load as expected.