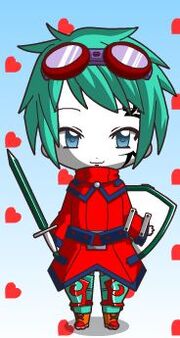 See also:
Main
Gallery
Quotes
Skills
Sayn Yahold is one of the main Characters,He is the Protector of Deeps
He is kind,a little bit shy and smart.
Character
Edit
Personality
Edit
Apparence
Edit
Sayn hair is turquoise.He wearing glasses on the head.He has white skin with the Dapleteens tatoo.He have a red coat and metal turquoise-red kight pants and red shoes.
Relationships
Edit
Kaezen is the only common Sayn friend.
He have a pet anglerfish named Vaxioots
He is not interessed for romance now.But in the the heart of my life, he say that he looking for romance.
Name: Sayn Yahold
Age:17
Height: 1,70 m
Race: Daplet
Likes:Water,Pools, Ice, Iced caramels, Fish, Sports
Dislikes:Bullies,,Maths,Books,Water wasting,Deserts, dry places.
Birthday: August,5
Stone:Saphire??
Transformations:Abyssal Slayer ► Marine Guardian
Edit
See:Abyssal Slayer
See:Marine Guardian
See:Slayer
Unlocking
Edit
Sayn is a base character and do not need to be unlocked.
Sayn combos are not similar to Haideen, even if those have the same weapon, a sword.
Sayn X>>ZXS combo is one of the deepest combos, its can hit more than 10 monsters.
Sayn, like Haideen and Wilieen get their pets along when the 7th group was relased, beacause, in Ignite your spirits its says that they don't got a pet for a specific reason
Sayn is the first Daplet to be relased
Ad blocker interference detected!
Wikia is a free-to-use site that makes money from advertising. We have a modified experience for viewers using ad blockers

Wikia is not accessible if you've made further modifications. Remove the custom ad blocker rule(s) and the page will load as expected.