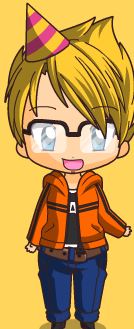 Hippo Thesalman is the 30th Character.He is the protector of Heartsol, the element of Sacred Stones.
Character
Edit
Apparence
Edit
Hippo is a blond guy with spiky hair and blue eyes.He have glasses.He have a orange sweat with black stripes.Hhe have blue jeans.
Personnality
Edit
Treated as a "male Dania" Hippo is funny and sweetely accepted.He have a obession for dragons and other creatures.He is also sad to doesen't be a Dragon Race.
Relationships
Edit
As discovered in Hatterzone Rocks,Hippo is Romain's younger brother.
New in the GSH crew,Hippo is quet having few friends like Dania, he also seen to be i friendship with Tayleeen
Hippo pet is unknown.
Name:Hippo Thesalman
Age: 15-16-18
Height: 158 cm-160 cm-162 cm
Weapon:Solarius-Hemitus
Race:Hemitus
Likes:Dragons,GSH,his powers
Dislikes:the discovery that he is Romain brother,Iklet village,Demons
Stone:Pearl??
Unlocking
Edit
Defeat Bonkazoid Dragon Trio (El,Su and Rei) in Very Hard or higher
or buy the Dragon Wish Seal in the Premium Mall .
Trasformation:Solarius Master►Solarius Heart
Edit
See:Solarius Master
See:Solarius Hearts
See:Solarius
                   Unlike those,Hippo doesen't have the name "Sword" in his weapon.
Hippo is a Hemitus, the human race that create the Iklet Village.
Hippo and Ethan are the only males to be not a dragon race
Hippo and Yasmine are the only people to be from Iklet
In the concept of him, he was destined to be at Pickle Island instead of Iklet
Hippo element is most based of light that sunshine.Faime also share the same contray
Ad blocker interference detected!
Wikia is a free-to-use site that makes money from advertising. We have a modified experience for viewers using ad blockers

Wikia is not accessible if you've made further modifications. Remove the custom ad blocker rule(s) and the page will load as expected.