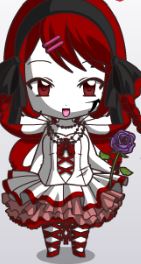 See also:
Main
Gallery
Quotes
Skills

Dania Perezides is the Protector of Shadow Sweets
Apparence
She have bordeaux hair,dress and ballerinas.She have white dresse and red necklace.
Relationships
Friends
She is Friends with Gigi and Spektray.
Pet
Her pet is a Butterfly named Cakeflow
Romance
She is not in romance with anyone.
Profile
Name: Dania Perezides
Birthday: May, 12
Age: 12
Height: 1,41 m
Likes:Happiness,Cupcakes,Confectionery,Mischief
Dislikes:Bugs,Spiders,Haideen,Rucolus de Mustasio
Race:Deathtie
Stone:
Transformations:Dark Keeper > Shadowmaster
See: Dark Keeper
See: Shadowmaster
 - Warlock
Trivia
Ad blocker interference detected!
Wikia is a free-to-use site that makes money from advertising. We have a modified experience for viewers using ad blockers

Wikia is not accessible if you've made further modifications. Remove the custom ad blocker rule(s) and the page will load as expected.